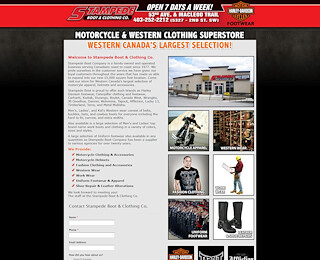 Even if you've got hard to fit feet, Stampede Boot & Clothing Company can put you into a fine pair of cowboy boots in Calgary. Visit our newest facility at 53rd Avenue and MacLeod Trail to browse a splendid selection of boots, belts and biker wear by Danner, Wolverine, Tapout, Affliction, Lucky 13, Timberland, Terra, Metal Mullisha and more.

No item of clothing symbolizes the American West more than cowboy boots. In Calgary, one does not have to be a cowboy in order to wear a great pair of well fitting, lost lasting, highly attractive cowboy boots. When we see cowboys in movies or on tv, they're almost always depicted wearing their boots. A lot of Old West gunslingers may have actually worn their boots to bed, just in case they had to make a quick getaway in their pajamas. Cowboy boots in Calgary aren't just for cow pokes anymore. Nor are cowboy boot gender specific. Women enjoy wearing (and being seen in) a fine pair of cowboy boots from Stampede Boot.

Traditional cowboy boots have a high slanted heel that helps to keep feet in the stirrups. A high thick leather shaft protects the shins and lower legs from brush and thorns while riding. Straps make it easier to put on cowboy boots in Calgary, and decorative stitching is typical and desired. Browse our extensive catalog of motorcycle clothing & accessories, motorcycle helmets, fashion clothing and accessories, Western wear, work wear and uniform footwear in sizes to fit everybody on your holiday gift list. If you're shopping for the best work and fashion footwear in Calgary, your search ends right here and now. Welcome to the online home of Stampede Boot & Clothing Company. We stock and sell every kind of belt, buckle, hat, and boot you can name, in sizes for everyone including hard to fit, narrow, and extra widths.
cowboy boots Calgary