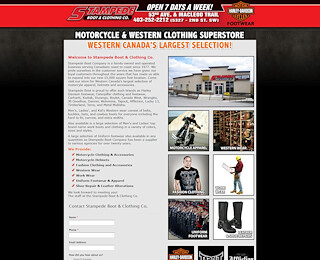 You won't find more boots in Calgary than we have in stock at Stampede Boot & Clothing Company's new 15,000 square foot location. Shop and save on a remarkable assortment of high quality boots by such name makers as Harley Davison footwear, Carhartt, Kodiak, Durango, Boulet, Canada West, Wrangler and JB Goodhue.
If you're shopping for the best work boots in Calgary, you can stop right here and now. Welcome to the online home of Stampede Boot & Clothing Company. We stock and sell every sort of belt, buckle, hat, and boot you can name, in sizes for everyone including hard to fit, narrow, and extra widths. Safety boots are a must-have in much of today's modern workforce. All sorts of professionals, from construction workers to nuclear scientists benefit from the design and durability of superior work boots in Calgary. If your number one priority is to protect your feet, work boots in Calgary are an imperative. Without proper foot protection, many 21st century jobsites would be far more dangerous places. No matter what sort of industry you engage in, we offer a variety of boots to suit your purposes perfectly.
Properly fitted boots in Calgary can protect the long term integrity of the feet of the wearer. Safety boots do this by providing reliable support for the ankles. They are designed to provide crucial support for the arches, too. This is a blessing for anyone who works long hours on their feet. Workplace injuries can force a person to retire from their chosen line of work. Browse our extensive line of motorcycle clothing & accessories, motorcycle helmets, fashion clothing and accessories, Western wear, work wear and uniform footwear in sizes to fit everyone on your holiday gift list. While you're here, be sure to grab a few treats for yourself.